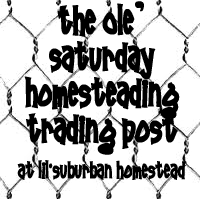 I love hosting The Ole' Saturday Homesteading Trading Post blog hop however there are only so many hours in the day and I am returning to a very intense work schedule in about a week so I have decided while I will continue to feature different bloggers at "The Ole' Saturday Homesteading Trading Post"  however it will become a once a month blog hop on the first Saturday of every month!  This way when people link up they can link several of their favorite posts throughout the month.  My next Ole' Saturday Homesteading Trading Post will be on Saturday September 1st however we will be having a blog hop next Saturday so keep reading!
Next Saturday I wanted to do something really different and unique for my last blog hop before I go back to school literally full-time.  It's going to be the "Back To School" Blog hop…..I am going to open it so any one can share and host/hostess this on their blog with others.  The idea of it being that you will share all ideas to make going back to school for parents and their children easier.   It can be blog topics on any of the following subjects or more if you get creative:
saving money on school clothes
easy and healthy lunches
convenient breakfasts
carpooling
homework strategies
juggling sports and studies
balancing long days with family life
eating healthy on the run
saving time
making your days more efficient
You get the idea!  This special blog hop that will be featured instead of "The Ole' Saturday Homesteading Trading Post" next Saturday!  Please feel free to not only link up your blog postings but others as well.  I thought this could become a reference spot for a lot of us whose schedules are going to be changing dramatically.  Please feel free to grab this button and host this "Back to School" event on your site as well.   I know for me I could really use all the ideas I can get my hands on!
I still hope those of you who link up every week will come on back to "The Ole' Saturday Homesteading Trading Post" every month….I think doing it monthly will really add to the value of this feature!
Have a great Sunday everyone!
Fondly,

Back To School Articles:
4 Ways To Lower Your Family's Back To School Budget (CanadianBudgetBinder.com)
Great Ideas – 17 Back To School Projects (tatertots & jell0.com)
Back To School Round-Up 2012 (The Crafting Chicks.com)
What's On Your Back To School Shopping List (About.Com Work-At- Home Moms)