Our featured blog this month is Nancy at Prudent Living.  She makes some of the most beautiful recipes and she has her own magazine called Prudent Living Magazine and best of all its FREE!
One of my favorite posts that Nancy linked up to The Ole' Saturday Homesteading Trading Post this past month was her blueberry pie filling…..Prudent Pantry:  Blueberry Pie Filling Genius I mean why didn't I think of that?  I have made apple pie filling and it was good but this is just an amazing recipe and gorgeous in those canning jars too!
Another blog post I loved of hers is Garlic Scape Pesto this would have so come in handy when I had tons of garlic scapes last year I really didn't know exactly what to do with them so I fried them up in a lot of our sautéed vegetable dishes.  Trust me this looks delicious!
Nancy and I are so like-minded because I love growing potatoes too and her post on My Garden:  Potato Bucket Yield is so inspiring it reminds you that you too can very simply and efficiently grow potatoes.  Look at these gorgeous potatoes!
Nancy has blog posts covering a wide range covering her Prudent Pantry, Gardening, Recipes, and Frugal Tips.  Make time to stop in and read Prudent Living it is chock full of clever ideas to keep your homestead running smoothly and efficiently you can tell that Nancy is not a novice and really knows her stuff!  I have learned so much from her already!    It was from Nancy I learned that I could freeze my kale harvest I mean I had no idea!  I was just eating it as fast as I could 😉
I usually have this post up early on Friday but between going back to work full-time and football games etc….I am running behind.  I will now be hosting our once a month link up at The Ole' Saturday Homesteading Trading Post!  I hope you link up so we can stay connected to each others homesteading ideas in a very informal setting!  I am of the belief that if you have a home you are a homesteader so all link ups as long as they are about your life and of course appropriate for all age groups are welcome!  I cannot wait to see what everyone will post I hope you will feel free to share numerous posts that you have been blogging on all month every month so we will have a wide array of resources to learn from each other with!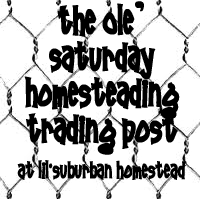 Powered by Linky Tools
Click here to enter your link and view this Linky Tools list…
Click here to see all of the amazing blog hops this week!
Have a fabulous Saturday everyone!
Fondly,

Related articles