Hi ya'll!
This is one week I have really been waiting on Friday…..I got sick last weekend and am just starting to shake it off now. The silver lining is that I am feeling better!
I have to share with you all how difficult it is to choose a favorite every week at our hop! This hop has some of the most fantastic link ups and posts however we all pick a fave every week.
This week I chose a post by a bloggger Christine at "Once Upon A Time In A Bed of Wildflowers" She chose to share a recipe called "Real Food Shamrock Shake" and it just looks amazing so I had to share it with all of you! My Doctor recently just shared with me that she wanted me to start drinking smoothies that included whole foods with good healthy fats like avocados so this recipe resonated her edict as well.

I am putting this on my list to try this week! I hope you will try it too!
Thanks Christine for such a wonderful post!
Also I have to share with all of you to follow-up to what I discussed at the Hop last week that we have reserved some chicks. We reserved two Barred Rocks and two Americauna's and I am so excited and they are so adorable! She will hold on to them until they can come out under the incubating light.
Say hi to our 4 new chicks!

Have a great week everyone!


Congratulations! Please feel free to grab our button and display it proudly on your blog!
Now, on to this week's party:
1. Link up to three
of your best gardening or homesteading tips, farm-themed posts, recipes, homemaking and
simple/frugal living tips, decorating ideas, DIY projects, craft ideas, thrifty makeovers or repurposed
items, healthy and sustainable living tips, and giveaways.
2. Link back to my blog (using the rel="nofollow" tag), or put the link party button anywhere on your
blog or post to share the love.
3. Make sure to check out some of the other links before leaving.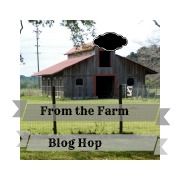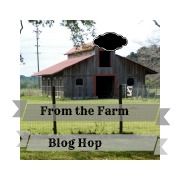 We can't wait to see what you share with us!
Note: Linking up to this party will automatically sign you up for an
invite to next week's party via email. To unsubscribe, please reply to any email you receive and you
will be removed. Linking up also allows us permission to publish one of your photos on our blogs,
Facebook, and/or Pinterest pages.
Warmly,Your From the Farm Blog Hop Co-Hosts:
The Homesteading Hippy
|
Sunny Simple Life
|
Grassfed Mama
|
The Mind to Homestead
|
My Healthy Green
Family
|
Spring Mountain
Living
|
Timber Creek Farm
|
Happy Days Farm
|
Better Hens and Gardens
|
The Granola Mommy
|
Lil' Suburban Homestead