It's time for our "Colonial Raised Bed Garden Reveal"……we were so excited to show you all these photos that my husband climbed up with his climbing tree stand which I must admit did make me a little nervous.
We are so proud of how well it turned out now once we added the gravel, the fountain, and the river rock it did raise our budget on this project however you could do this same project with less expensive options too.  Now what you cannot see very well in this picture is that at the left end of the garden as shown in this picture are some homemade trellises built out of our bradford pear tree branches will be used more and more as the garden matures.  You can see a little more of the trellises in the background of the photo of me!
We went to Stone Garden to pick up the river rock which is a field trip in itself…..it is now one of my favorite places to dream up some more ideas for our lil' suburban homestead and in the photo above you can really see a close up of the river rock we picked out!  I have to say I love this beautiful "one of a kind" fountain the Viking in my life built me…..my husband drilled holes through all of these rocks and stacked them together and the fountain just sounds beautiful while its running but it's not only designed for beauty it's also a watering hole for our bees.
The rope around the garden is a visual cue for our dog River not to walk in the garden and lucky for us he is super smart and it works!  😉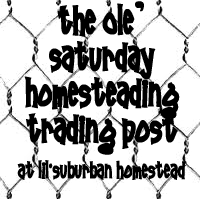 It's time to link up to The Ole' Saturday Homesteading Trading Post Edition No. 20.  but just as a side note every time I mention to all of you that I have a plan on the horizon something else comes up….so now I really know what the expression "the best laid plans" means.  So no  more planning for a while at least on the project front I am just going to go with the flow.  If you are like me you are extremely busy right now so feel free to link up anything you have done this past year  or even dig in your archives.    You won't want to miss them! 
Powered by Linky Tools
Click here to enter your link and view this Linky Tools list…
Click here to view all blog link ups this week!
Thanks so much for linking up and if you don't have a blog thanks for stopping by and checking out our Lil' Suburban Homestead!  Thanks for taking a tour of our new Colonial Raised Bed Gardens!
Wishing you a wonderful Saturday!
Fondly,

This post is linked to the following wonderful blog hops:
Related articles