Why would you render your own lard?  I know many of us immediately equate lard to bad but it just simply is not true!  We have been lied to by the food industry that all fats are bad and hydrogenated fats are bad this is true but natural animal fats, coconut oil, and butter are all good saturated fats.  Yes I see a nutritionist and yes I have lost 40 lbs and still working hard to keep it off but part of eating for good health for me is including real fats in my diet.  I still use butter and I also use lard in moderation that is my choice others like my friend Katherine use the real whole saturated fats more liberally.  Katherine is in very good shape so she is an example of leading a healthy diet by eating paleo and gluten-free.
We have renedered our own lard before but these pictures are taken by my friend Katherine who recently made her own lard or tallow the other day and she was very pleased with the results.  Katherine eats primarily a paleo diet  but she does eat some grains and she does eat a 100% gluten free a diet as result she eats and seeks out lots of good fats!  She also plans to use this rendered lard in balms she is making as well.  I am curious to hear what she thinks about her results from that venture.
One of the books that I read that further convinced me of incorporating healthier fats in our diet is the book Nourishing Traditions by Sally Fallon.
This is a must read for everyone especially if you have been continuing to follow a very low fat diet with poor results.  If you would like to read more about fats click here to read "The Skinny On Fats" by the Weston Price Foundation.
Basically for those of you that have never made your own tallow the process is relatively simple but I am sharing some links here for you to different blogs who have done this as well.  All you do is cook the lard down many people put it in a frying pan and cook it down but you need to be careful not to burn anything as well.  Then of course you strain the cracklings through cheesecloth as shown above in Katherine's photos.   Katherine also placed olive oils in smaller jalls those were the jars she as using to make her balms with hopefully she will give us all an update soon!
Thanks Katherine for sharing your pictures with all of us and also feel free to comment and add your remarks about any of these photographs!
Wishing all of you a beautiful rest of your week!
Fondly,
Related Articles:
Linked up to the following blog hops:
div align="center">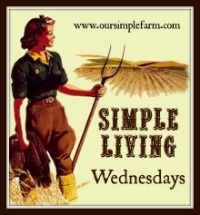 "/>