It's Friday and it's usually my favorite day of the week but for me it means that my Spring Vacay is almost coming to an end….such is life! I have cleaned out closets, gone to the movies, made homemade dog treats, and dehydrated a boat load of food.
I visited the local plant nursery and strawberry farm and boy have I gardened but there are only so many daylight hours and as much as I tried to get it all done I never do!
I even got the dreaded cleaning out the refrigerator done! One of my least favorite tasks….what about you have you started your Spring Cleaning yet or are you waiting for the snow to clear out? I realize a lot of my friends up north have really taken on a winter beating this year and I wish for all of you warm sunshine, fresh mint in your garden, and breezes soon!


This week my favorite post that linked to the "From The Farm" blog hop was from an actual fellow blog hop host but once you hear about my love affair with mint right now you will understand. Kristi at Mind To Homestead did a blog post about that very subject ((((Sigh))) mint…..and it was beautifully written and inspired even more of my goals for this very aromatic herb this year.
Here post was titled "Peppermint And A Free Herbal Peppermint Monograph PDF"
The monograph is just beautiful and would also make lovely stationary with the mint motif as well and I plan to use it for my spring notes my Grandma would have loved to receive a note with such a lovely design.
Also you need to know for some reason I have sorely neglected this herb in my preps and have not made it a part of my medicinal herb garden which really now my herb garden is all one big garden now for the most part of course the mint is being carefully put in a pot….fingers crossed! I think the invasive properties of mint are what has kept me from actually growing it since we are on such a small homestead.
That being said I started dreaming about mint this year and all the things I could do with it my most important item being that I plant to make mint jelly this summer!


Congratulations! Please feel free to grab our button and display it proudly on your blog!
Now, on to this week's party:
1. Link up to three
of your best gardening or homesteading tips, farm-themed posts, recipes, homemaking and
simple/frugal living tips, decorating ideas, DIY projects, craft ideas, thrifty makeovers or repurposed
items, healthy and sustainable living tips, and giveaways.
2. Link back to my blog (using the rel="nofollow" tag), or put the link party button anywhere on your
blog or post to share the love.
3. Make sure to check out some of the other links before leaving.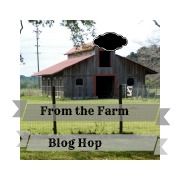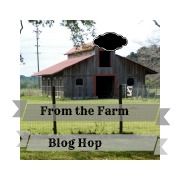 We can't wait to see what you share with us!
Note: Linking up to this party will automatically sign you up for an
invite to next week's party via email. To unsubscribe, please reply to any email you receive and you
will be removed. Linking up also allows us permission to publish one of your photos on our blogs,
Facebook, and/or Pinterest pages.
Warmly,Your From the Farm Blog Hop Co-Hosts:
The Homesteading Hippy
|
Sunny Simple Life
|
Grassfed Mama
|
The Mind to Homestead
|
My Healthy Green
Family
|
Spring Mountain
Living
|
Timber Creek Farm
|
Happy Days Farm
|
Better Hens and Gardens
|
The Granola Mommy
|
Lil' Suburban Homestead