Everyone that links up this week will be entered in the giveaway this week.  If you don't have a blog you can leave a comment to be entered as well.  You can enter up to 4 times this week with blog link ups!  You won't want to miss this one!  I love doing giveaways anyway they are always so much fun!
So guess what I did this afternoon for my "Wind Down Friday" I spent the afternoon with a good friend sorting and perusing through each others seeds  It was so much fun she has the best taste in seeds of anyone I know so I have to kind of throw in some eggs and seed potatoes just to make it fair but it was such good fun!  When ever you  spend time with a fellow garden and you share the same passions it's just fun it's that whole kindred spirit thing you know that I'm always talking about 😉
Oh I guess you want to know what the giveaway is for well it's an oldie but a goodie!  It's for a book that I have found to be absolutely indispensable!  This giveaway is open to US and Canadian participants ONLY!  You get entered in this contest each time you enter a blog link however only 4 entries per person seems reasonable to me!  I can't wait because I love giving stuff away especially good stuff!
The book is in very good shape Yes it's used you know I'm all about Repurposing and recycling buy I still have my own copy I found another copy of this book. This book has everything in it to help you fix and solve practical household issues.  I highly recommend it to all newlyweds or singles just starting out. Don't assume just because a book is old that it's irrelevant I would say this book is still about 90 % relevant and there is so much info in it and before Pinterest etc…
I relied almost exclusively on this book with a few others but it's still handy to have as a reference and you never know when the power will go out….
I will draw the winner of this giveaway from Rafflecopter but I will place all the entries in because all you need to do is link up or comment that's it!  Super Simple!
So what is going on at your place this week?  My husband has really gotten to  the point where he is very invested in our wine making you never know that might be our next start-up business.  Wine is also a great prepping bartering item and making it at home costs so much less!  Opportunities abound you have to scoop them up in this economy whenever you stumble upon a calling and you know we really try!  Have you thought about what you might use to barter with?  Do you raise bees for honey?  Do you garden for food?  What do you think will be valuable if we lived in an economy where cash is no longer king?
Here is a wine rack that he actually repaired for about $6.00 that he picked up at our local Habitat For Humanity for about $50.00 they go online for about $419.00.    It has a bottle capacity of  171 and it  all fits nicely in an average size closet.  Talk about a deal……the Viking in my life once again scored some major savings!
I also ask that you link back to this posting either in each individual post or you can snag The Ole' Homesteading Trading Post badge and place it in your sidebar widget.  Either or is much appreciated 🙂
I would love to see posts on:
sewing
raising rabbits or any other livestock for meat/butchering posts
soap making
making your own lotions and potions
solutions for making life easier
gardening
raising chickens a subject near and dear to my heart
bee keeping
crocheting/knitting
crafts
DIY
sustainable living (such as composting, solar power etc…)
Off Grid
Preparedness/Prepping
Book Inspirations
Recipes/Cooking
Thoughts/Musings/Ideas
Homesteading Fun
Raising Our Children/Families
Homeschooling
Frugality/Bargain Hunting Thrift Store Finds
Vintage/Antique
Being Active
Financial/Saving Money/Budget
Dumpster Diving
and so much more!   I can't wait to read all of the link ups this week!
Don't forget if you have been featured at Lil' Suburban Homestead that you can also display this badge on your website!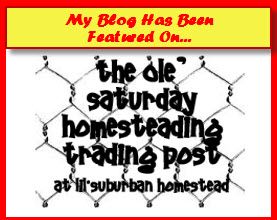 I am so glad you came by to join us at The Ole Saturday Homesteading Trading Post what I love mostly about this hop is that it is for all things homesteading related and as pioneers did and made everything themselves the sky is truly the limit.  I hope you link up this week and if not just come in and look around at these amazing bloggers I am always so glad to read each blog post that links up that  I take the time to read and personally respond to each and every link up!  I get to meet new homesteading friends, ask questions and learn new skills and so can you!
I so enjoy hostessing The Ole' Saturday Homesteading Trading Post Blog Hop because I really want folks to share the joys, the trials, and the tribulations of what we experience in the homesteading community!  I hope you enjoy visiting and seeing what other folks are doing too.
Have a great week everyone and you know my motto "If you have a home you're a homesteader!"
Fondly,
Related Articles: