So glad to say hello to everyone this Friday!
I am so glad it's Friday words just can't express my joy! I think I am anxious to work in the garden this weekend and get some Spring Cleaning done!
I chose as my fave this week "Taylor Made Ranch's Wild Game Recipe: Slow-Cooker Enchilada Casserole" which looks so amazing because this is a recipe that would suit our family perfectly and her post was so well thought out and included everything she was thinking which is so helpful when you are cooking as you know!
We have a lot going on around our homestead this week…..first of all we are going to get some new pullets this weekend I have made a new Chicken Farmer friend right down the road from where I work and well I just can't wait! She has three of my favorite breeds of hen which are Buff Orpington, Barred Rocks, and Rhode Island Reds I hope to get one of each at least and I can't wait to share pictures with all of you! ! You know how I love my chickens…yes they will get mad but they will sort it all out they always do just like my blog post about their feuding a few years back!
Have a great weekend everyone!


Congratulations! Please feel free to grab our button and display it proudly on your blog!
Now, on to this week's party:
1. Link up to three
of your best gardening or homesteading tips, farm-themed posts, recipes, homemaking and
simple/frugal living tips, decorating ideas, DIY projects, craft ideas, thrifty makeovers or repurposed
items, healthy and sustainable living tips, and giveaways.
2. Link back to my blog (using the rel="nofollow" tag), or put the link party button anywhere on your
blog or post to share the love.
3. Make sure to check out some of the other links before leaving.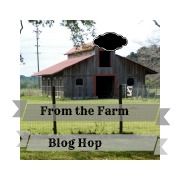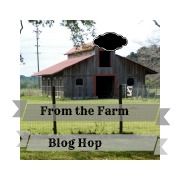 We can't wait to see what you share with us!
Note: Linking up to this party will automatically sign you up for an
invite to next week's party via email. To unsubscribe, please reply to any email you receive and you
will be removed. Linking up also allows us permission to publish one of your photos on our blogs,
Facebook, and/or Pinterest pages.
Warmly,Your From the Farm Blog Hop Co-Hosts:
The Homesteading Hippy | Sunny Simple Life | Grassfed Mama | The Mind to Homestead | My Healthy Green
Family | Spring Mountain
Living | Timber Creek Farm |
Happy Days Farm | Better Hens and Gardens | The Granola Mommy | Lil' Suburban Homestead