Wishing you all a beautiful Friday! Spring is in full gear and tonight my honey "The Viking in My Life" and I are going to go out to a show in an outdoor amphitheatre to listen to some wonderful music and hopefully the weather will hold it has been beautiful!
I am hoping to work on some homesteading tasks this weekend and to get ready for my daughter's birthday soir'ee as well!
On the topic of another "Honey" this week my favorite post that linked up to the "From The Farm" blog hop was Homestead Honey's post "Spring On The Homestead". I just feel like this post truly is the "essence" of the homestead spirit because that's how it is on the homestead currently my husband and I have multiple projects on our own homestead. Well Teri's got tons going on at their homestead between canning black walnut syrup, building a black smith shop, and expanding their garden. Oh it doesn't stop there they have so much more going on but I'm not going to spoil the entire post because all I can say is this post made me feel truly inspired with all they are getting accomplished! They are on the move and if you haven't visited Teri's blog I love their tag line which simply states "Inspiration For A Radical Homestead" you will love it, you will learn new and innovative ways to build up your own homestead and you know that's a passion of ours at Lil' Suburban Homestead I recently took my tag line down because we are renovating our header but it states…"Where Innovation & Homesteading Meet"….Terri and I have bunches in common but isn't that the way with this wonderful homesteading journey we are all on together!
We are so glad you are all here to link up this week to the "From The Farm Blog Hop" wishing you all a beautiful week and I know I for one cannot wait to see all of the wonderful link ups!


Congratulations! Please feel free to grab our button and display it proudly on your blog!
p>

Now, on to this week's party:
1. Link up to three
of your best gardening or homesteading tips, farm-themed posts, recipes, homemaking and
simple/frugal living tips, decorating ideas, DIY projects, craft ideas, thrifty makeovers or repurposed
items, healthy and sustainable living tips, and giveaways.
2. Link back to my blog (using the rel="nofollow" tag), or put the link party button anywhere on your
blog or post to share the love.
3. Make sure to check out some of the other links before leaving.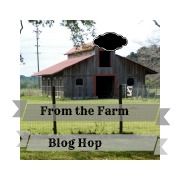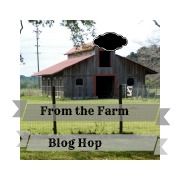 We can't wait to see what you share with us!
Note: Linking up to this party will automatically sign you up for an
invite to next week's party via email. To unsubscribe, please reply to any email you receive and you
will be removed. Linking up also allows us permission to publish one of your photos on our blogs,
Facebook, and/or Pinterest pages.
Warmly,Your From the Farm Blog Hop Co-Hosts:
The Homesteading Hippy
|
Sunny Simple Life
|
Grassfed Mama
|
The Mind to Homestead
|
My Healthy Green
Family
|
Spring Mountain
Living
|
Timber Creek Farm
|
Happy Days Farm
|
Better Hens and Gardens
|
The Granola Mommy
|
Lil' Suburban Homestead